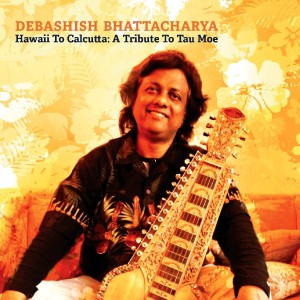 Debashish Bhattacharya
Hawaii To Calcutta: A Tribute To Tau Moe
(Riverboat/Harmonia Mundi)
Der unermüdlich zwischen den Weltkulturen pendelnde Bengali Debashish Bhattacharya unternimmt auf seinem neuen Album eine Reise zu Ehren seines Freundes, des 2004 hochbetagt gestorbenen hawaiischen Gitarrenvirtuosen Tau Moe, einem ähnlich global geprägten Klangsuchenden. "Hawaii To Calcutta" verblüfft vor allem mit der schlüssigen Überblende zwischen der Virtuosität der indischen Slidegitarren, teils Bhattacharyas eigene Kreationen, und den völlig entspannten Aloha- und Waikiki-Melodien. Am Ende des Albums hält man die transpazifische Verzahnung der glissandierenden Verwandten für absolut selbstverständlich – auch wenn sie zuvor in der Musikhistorie nie stattgefunden hatte.
Debashish Bhattacharya: Improvisation on Hawaiian Electro Lap Steel
Quelle: youtube