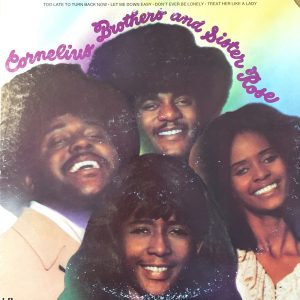 Cornelius Brothers and Sister Rose
Cornelius Brothers and Sister Rose
(United Artists Records, 1972)
Von Zeit zu Zeit passiert es, dass ich Soulperlen durch Filme kennenlerne. In den letzten Wochen war das zwei Mal der Fall – deshalb gibt es nach langer Zeit mal wieder Einträge in der Schatzkisten-Sparte. Spike Lee hat für "Blackkklansman", ganz nebenbei der wohl wichtigste Film des Jahres, nicht nur Terence Blanchard als Soundtrack-Komponisten verpflichtet, er hat auch tief in der Soulhistorie gekramt. Zutage gefördert hat er den Gospelsong "Mary, Don't You Weep" von niemand Geringerem als Prince, die den Abspann begleitet (und die morgen auf dem posthumen Piano & A Microphone 1983-Album enthalten ist. Und während einer Tanz-Szene, voll mit der typischen "Soul Train"-Choreographie der frühen Siebziger, hört man "Too Late To Turn Back Now", das Titelstück von Eddie Corneliusens Formation.
Die Brüder und ihre rosige Schwester sind nicht verwandt mit dem unvergleichlichen "Soul Train"-Moderator Don Cornelius, sondern stammen aus dem sonnigen Florida ,von wo sie aus 1972 mit dieser einen Platte loszogen, um nicht nur die R&B-Charts, sondern die Popwelt zu erobern. Nummer 2 in den Billboard-Notierungen der Staaten, Nummer 1 gar in Kanada. Und ich muss zugeben: Die Maj7-schwangeren Harmonien, gepaart mit glückseligen Streicheraufschwüngen und tighten Vokalschichtungen kriegt man einfach nicht mehr aus dem Kopf – umso mehr, da sich dieses Schema auf dem ganzen Longplayer doch ein paar Mal wiederholt.
Cornelius Brothers and Sister Rose: "Too Late To Turn Back Now"
Quelle: youtube